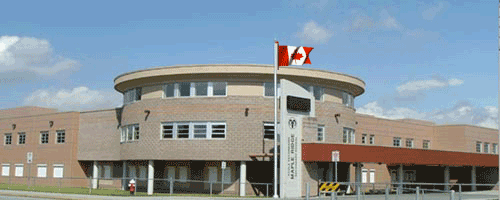 Maple Ridge Secondary School
Ecole Secondaire de Maple Ridge
21911 - 122nd Avenue, Maple Ridge, BC

The MRSS Concert Band is taught by Mr. Weingartner, band teacher at Maple Ridge Secondary School. The students in this class are in grade 8 or 9. This class plays quality concert band music of many different styles around the grade 1-3 level.
Our instrumentation includes flutes, oboe, clarinets, saxes, trumpets, trombones, baritones, tubas, basses, and percussion. We meet twice per week inside the timetable, and perform at least four times per year as well. We also travel to a music festival in the spring each year, and possibly on a short road trip every second year.
Make sure you visit the members page to access the student materials for this course!
Trombone Choir!
Wow! You really need to see this link on Youtube. This is the Southeast Trombone Symposium presenting a trombone choir composed of post-secondary trombone professors only! This is an amazing sound. Turn up your speakers and make sure you see it to at least the Star Wars point. Definitely the coolest sound in the band!
http://www.youtube.com/watch?v=wJoVj_NXSso&feature=c4-overview&list=UUIfPDWtUrtbSDLZFcU7yE-Q
Mnozil Brass!
Here is another really cool video on YouTube. The Mnozil Brass are a world-class brass quintet. Check out what they do with the old tune "Lonely Boy" in this video!
https://www.google.ca/search?q=mnozil+brass+lonely+boy&rlz=1C1SFXN_enCA566CA567&oq=mnozil+brass&aqs=chrome.2.69i57j0l5.8535j0j8&sourceid=chrome&espv=210&es_sm=93&ie=UTF-8
Pipe Band Bass Drummer!
Check out the bass drummer from the Greighlan Crossing Pipe Band, from right here in Maple Ridge. This guy is the craziest bass drummer I have ever seen, but by far and away the BEST bass drummer I have ever seen! Notice how much movement he has, and keep in mind that he is wearing a heavy bass drum while doing this! The lesson for all students is: "Don't play still!"
http://www.youtube.com/watch?v=0mYrZRR6j64
Downloads
​
Intermediate Concert Band Course Outline
​
​
MRSS Music Program Handbook 2015
MRSS Music Program Contact Info Form 2015
Junior/Intermediate Fees and Supplies Order Form 2015
Field Trip Permission Form 2015
​